Our volunteer work at the Rialto Theater
When we were approached to help restore the theater to its original glory, we jumped at the chance. With our advertising and donation dollars already allocated for the year, we had to get really creative to pull this off. We, and our team, designed the dressing areas (4 total) of second floor stage left. We contacted our flooring supplier that generously donated the fun patterned carpet and padding. Our artist painted beautiful larger than life swirled murals, and our drapery workroom graciously covered a found chair. The table was a curbside find in perfect condition. We added many other creative elements to this fun project that contributed to our project making the front page of the local paper's special interest section with a write up in the centerfold.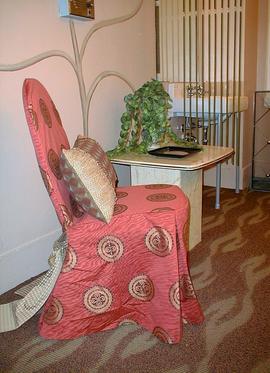 A shelter for homeless and despaired persons was an engaging project for all of us designers and volunteers who worked tirelessly within the confines of our allotted two days time frame. Our goal was to paint and decorate the lunch, living room, and play areas. We assisted in the paint process, then donated nine custom floral arrangements and one for the reception area so that those staying within the shelter would have a bit brighter outlook for their day.
This wonderful edition culminating the journey of more than nine years creating wonderful spaces for our clients the "Lyons" home, was published by Feather Pen Publishers. We look forward to another addition to the series and to our adventures with the Lyons...enjoyed with wine, of course!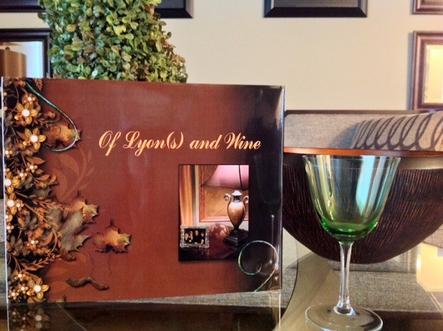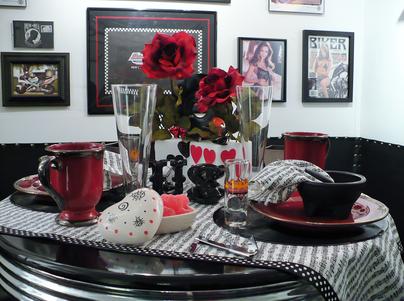 Valentine's Day isn't just for her. Ladies, don't forget to do something special for that man in your life. Here we've designed a great table and dinner just for him. Placemats were old 45's, napkin rings were large chrome bolts, replicas of fuzzy dice acted as a centerpiece, and a music themed table scarf finished the look. Menu was burgers, shots & beer, and, of course, his favorite jelly candies. We made the front page of the regional paper's special holiday interest section!
Shelter for Battered & Desparate Women. Elgin, Il
Our assistance in uplifting the living areas of this shelter takes place in Sept. '18 Please revisit our site to see the results of this charity event of auctions, donations, and applied work and materials.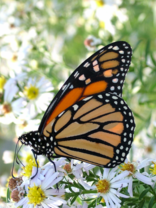 You will not see us participating in "Showcase or Parade of Home" design events as we believe our volunteer work and money is best utilized for charity and not directed to an unattainable dream.